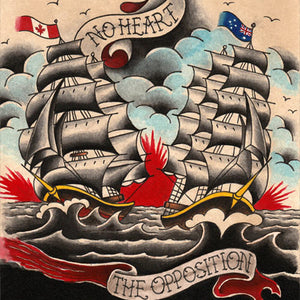 No Heart / The Opposition - split 12" LP
This is the follow up release for NO HEART from Victoria, Canada featuring former members of LAST CRUSADE and EMERGENCY and the debut release for another exciting new band from Melbourne, Australia called THE OPPOSITION, featuring former members of RAZORCUT.
NO HEART continues to crank out rough and raw skinhead rock'n'roll songs, and THE OPPOSITION are a female-fronted band that hits hard and aggressively combined with catchy and melodic guitar hooks and vocals. This one is sure to become a classic, so don't miss out!
FORMAT: 12" black vinyl LP + digital download
TRACK LISTING: 
A1 No Heart - This Town 
A2 No Heart - Shoot To Kill 
A3 No Heart - Namedropper 
A4 No Heart - These Days
B1 The Opposition - Intro / Step Up 
B2 The Opposition - Back On Attack 
B3 The Opposition - Wake Up 
B4 The Opposition - Generation Outta Control