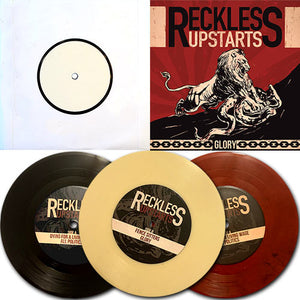 Reckless Upstarts - Glory EP - BUNDLE
It's the next installment in the saga of local streetpunk heroes, the RECKLESS UPSTARTS. Three variants, released in tandem with Contra Records in advance of the band's return foray to Europe.
This package deal that bundles all three versions together with a test pressing is limited to 3 UNITS ONLY.
FORMAT: 7" EP x4
PRESSING INFO:
125 x creme / off-white (Insurgence)
125 x red / black marble (Reckless Upstarts on tour)
250 x standard black (Contra)
TRACKLIST:
A1 Dying for a Living Wage
A2 All Politics
B1 Fence Sitters
B2 Glory