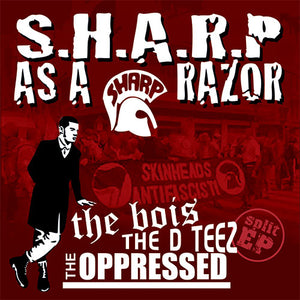 The Bois, The Oppressed - S.H.A.R.P. as a Razor CD
In 2012, The Oppressed traveled to Southeast Asia and (little known fact) for the first time in their history as a band, they played more than one consecutive show in a row! Three, to be exact; Jakarta, Kuala Lumpur, and Singapore. Impressions the legendary Oi! band have made on the massive Eastern Oi! scene were evident when Insurgence went along for the wild ride.
This Split EP was released for this unforgettable tour, containing tracks from Singapore's most trail-blazing Oi! band, The Bois, as well as contributions from The Oppressed, and Roddy Moreno's side project, The D Teez. The Split was released on CD only. The Bois tracks appear separately on a vinyl single.
FORMAT: CD
TRACKLIST:
01 The Bois - Who Are We
02 The Bois - Antifa Crew
03 The Bois - We Are The Boys
04 The Bois - Do Nothing
05 The D Teez - Cut Me Down
06 The D Teez - Paradox
07 The D Teez - World News Blues
08 The D Teez - 1970
09 The Oppressed - Antifa Hooligans
10 The Oppressed - Monkey Man
11 The Oppressed - Brother Louie
12 The Oppressed - Solidarity