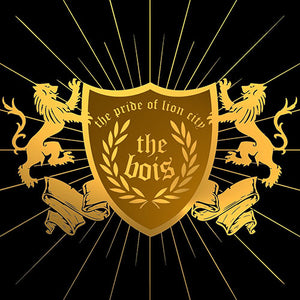 The Bois - The Pride of Lion City 2xCD
If you haven't heard THE BOIS yet, this will be a good jumping-on point! THE PRIDE OF LION CITY is a double album collection of everything the band issued prior to HIGH ON OI! Completely remastered from the original recordings, which suffered from censorship, these versions have had the swearing restored to their intended glory.
This collection contains their first two albums, CREAM OF THE CROPS and NEW GENERATION, together with material that didn't make it onto the originals, as they were intended: LOUD, UNCOMPROMISING, and SWEARING INTACT. This Limited Edition set comes in a 2-disc poly-case with a gold-printed slipcover and a pull-out poster documenting the history of The Bois in the context of Southeastern skinhead culture. Collectors should not miss this!
FORMAT: 2-disc Poly / Slipcase
TRACKLIST:
Cream Of The Crops
1-01 Sharp Skins
1-02 Urban Streets
1-03 Adelphi
1-04 Pride & Dignity
1-05 Loser
1-06 Cream Of The Crops
1-07 Stay True
1-08 The Bois
1-09 Chant Of Oi!
1-10 Hooligans
1-11 Skinheadgirl
1-12 Real Enemy
New Generation
2-01 Intro
2-02 Destroy
2-03 Boots, Crop, Life
2-04 Crucified
2-05 Hate Them All
2-06 The Bois Are Back
2-07 New Generation
2-08 Heart Of Steel
2-09 Cowards
2-10 Baron's Football Club (BFC)
2-11 Die Troopers (Lost Version)