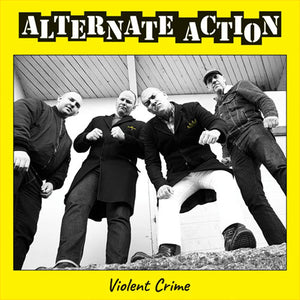 Alternate Action - Violent Crime 10" EP
12 years have passed since the last ALTERNATE ACTION record was released, but this classic Canadian Oi! band is back! Four new songs and a re-recording of one of their earliest anthems has this hard-hitting outfit sounding stronger than ever before! Sounding rawer, darker and harder than ever before, ALTERNATE ACTION bursts out one new anthem after another, including the already praised title-track "Violent Crime", as well as a re-recorded version of the scorching "Skinhead Way Of Life" which was previously only ever available on a compilation. 
FORMAT: black vinyl 10"
TRACKLIST:
A1 Violent Crime
A2 One Way Street

B1 Antisocial
B2 Pushed Aside
B3 Skinhead Way Of Life