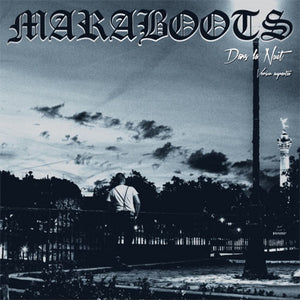 Maraboots - Dans la nuit (version augmentée) LP
TRACKLIST:
A1 Dans la nuit
A2 Héros de la oi!
A3 Ton choix
A4 Soldat perdu
A5 Plus rien
A6 Shlag Station

B1 A genoux
B2 Souvenirs
B3 La soupe aux choubs
B4 Neuski
B5 Crépuscule
Maraboots have been a reference for the new Paris oi! scene that have never been as strong as today. Their 3 first records were unavailable for a long time. They are now on this LP all together and remasterised.
Contains: "Dans la Nuit" 10" (6 songs), debut EP (3 songs), split EP with
Stomper 98 (2 songs).

Maraboots a été un des précurseurs de la nouvelle scène oi! parisienne qui n'a jamais été aussi active qu'aujourd'hui. Leurs 3 premiers disques étaient épuisés depuis longtemps. Les voila réunis sur un LP avec son remasterisé pour votre plus grand plaisir...