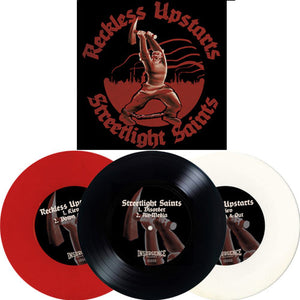 Reckless Upstarts / Streetlight Saints - split EP - BUNDLE
It's East Coast vs. West Coast with this split between Canadian heavyweight contenders RECKLESS UPSTARTS and STREETLIGHT SAINTS. Two champion cuts on each side.
The red and black variants of this release are available directly from the bands themselves, but we offer here a limited package deal that bundles all three versions together.
FORMAT: 7" EP x3
PRESSING INFO:
200 x white (Insurgence)
150 x red (Reckless Upstarts on tour)
150 x black (Streetlight Saints on tour)
TRACKLIST:
A1 Reckless Upstarts - Kiev
A2 Reckless Upstarts - Down & Out
B1 Streetlight Saints - Disorder
B2 Streetlight Saints - Alt-Media